| | |
| --- | --- |
| Steam Greenlight Promotion | 2015-01-17 |
We are slowly climbing the ranks towards the green light shining in the end of the tunnel!
As a small thank you for voting, commenting and feedbacking on Steam Greenlight we want to share a few Immune keys with you:
S8N3A-SR5UU-XANZW-VQS3E
3R38F-Y1WRT-8ARL3-S4LNP
5AQIZ-C4GUY-KOFEN-K3E7K
X6KFI-EXCPA-SKB8S-1AN8V
Redeem your key here (first come first served!):
http://immunegame.com/register_login.php
Vote here:
| | |
| --- | --- |
| Happy New Year! | 2015-01-01 |
First of all: Happy new 2015!
The
Steam Greenlight Campaign
is slowly progressing towards the 100%. At the moment it's at 26%, so it might still take a few weeks until the green light shines on Immune. But we will get there with your help! :)
Thanks to all the guys and girls who jumped in the cold early access pool by buying the game in its current state. You guys help me a lot!
I will try to make new gameplay footage with the newer animations and some new features in the near future. I will also experiment with the sight distance a little bit, so stay tuned.
Thanks & Happy New Year,
Gabriel
| | |
| --- | --- |
| Merry Christmas | 2014-12-24 |
| | |
| --- | --- |
| Vote for us on Steam Greenlight | 2014-12-19 |
Yes votes, we need all the Yes votes!
So please follow
this link
and vote for Immune!
| | |
| --- | --- |
| Immune Early Access Release Date! | 2014-12-10 |
It's official: The
Steam Greenlight
campaign and the
christmas sale
will start in 5 days!
December 15
it is! :)
The last days I was creating server browsers, security features, updaters and all that boring stuff to make life easier in the long run.
But I was also able to improve the crafting a little bit! You now have to have specific ranks in order to craft the better weapons or armors.
I also started to experiment with friendly survivor NPCs which looks kind of promising.
Stay tuned and thanks for your support!
You are awesome. ;)



| | |
| --- | --- |
| Immune Early Access | 2014-11-26 |
It got a bit quite in the last days, since I am wrapping up a lot of things, like small graphic improvements, particles, bugs, and tiny features like help messages for new players.

Anyway! I still want to get the first early access version out for sale in December, so I can collect funds to improve the final game in all details.
The game will be 50% off in the first few days - so you better be quick! :)
Please
join the forums
and discuss what features you want to see in the next versions.
There will be one last free playtest before that in the next few days, so make sure you are signed up for the newsletter (see "Home") or in the
Facebook Let's Test Group.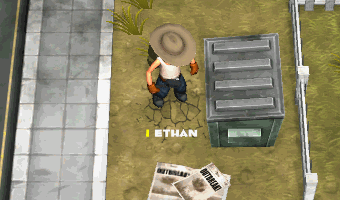 New dig particles (hint: you can (un-)hide
your items with the shovel!)
Page:
1
2
3
4
5
6
7