| | |
| --- | --- |
| Questions and answers in the forums! | 2015-03-17 |
Thanks to Lothy I finally managed to get some more thoughts out of my brain into characters on the interwebnets.
Head over
to this forum thread
and read more about Immune's future regarding building, resources, enemies, female characters and more.
If all this forum text is still not enough you can always visit my cryptic and not-so-detailed
TODO list
to get even more tasty roadmapness.
And if you are still hungry for MOAR please spam the forums with questions, ideas and feedback.
I'd really love to hear what you got to say. :)
| | |
| --- | --- |
| Immune Steam Release | 2015-03-12 |
We finished porting Immune to Steam. It will launch with a small discount as Early Access game on
March, 25!
Visit Immunes
Steam page here
.
We will take care of all the promised translations for Immune in the next days to tackle that beast!
Thanks again for all your Steam Greenlight votes!
You are awesome people! :)
| | |
| --- | --- |
| Achievement Unlocked: Achievements! | 2015-02-25 |
We just got one step closer to Immune's Steam release by integrating Steam's achievements. :)
We hope to release Immune on Steam next month.
Immune will be Steam only for the sake of simplicity, so everyone who bought the game before the Steam release will get an email soon with a Steam key.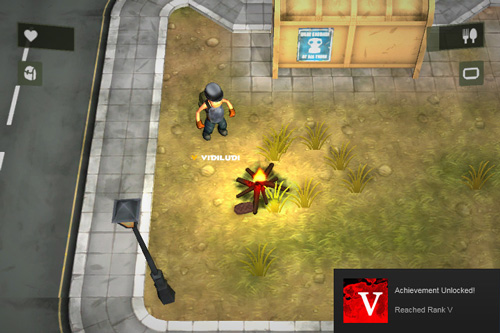 | | |
| --- | --- |
| Steam Integration Progress | 2015-02-05 |
At the moment I am working on the Steam integration for Immune and I am progressing fast! Here are my first results playing with Steam updates: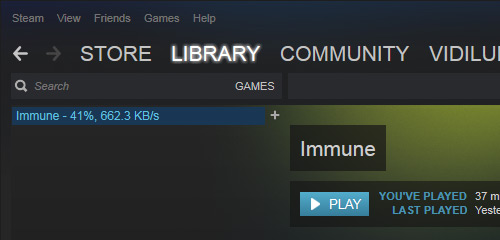 How cool is that? ;) It's exciting to see Immune on Steam.
We are getting there!
| | |
| --- | --- |
| Immune has been Greenlit! | 2015-01-25 |
After just 40 days on Steam Greenlight Immune passed with 2145 YES votes! Thanks for all the votes, comments and sales.

I will now work hard on bringing Immune to Steam in the next few weeks. Stay tuned!
Gabriel
| | |
| --- | --- |
| Next Immune Update! | 2015-01-18 |
I already finished a few more tasks next to some bugfixes for the next Immune Update and I hope to finish some more stuff till we release an update. The game will update itself automatically by the way.

Camera Improvements
You will be able to see a bit more in front of you and a bit less behind you.

Car Improvements
It's still not perfect, but not as wobbly as it was before.

Bug Fixes
Normally buildings you do not use anymore (press E when facing them) decay after some time. This didn't work and buildings just stayed forever. This has been fixed hopefully. :)

This update is scheduled for late January or early February! More information coming soon. :)
Page:
1
2
3
4
5
6
7